Email Marketing Services is a tool that you will need very soon in the life of your online business. Actually, you should implement an email marketing platform from day one.
Since you landed on this page, I suppose you are already considering it and understand its importance.
In this list of best email marketing services, I would like to share my experience and make your start in email marketing a bit easier! 
Disclaimer: In this post, you will see affiliate links. If you purchase a product or service through them I will receive a small commission at no additional cost to you.
Why Email Marketing Is Important?
The main reason is the ROI that email marketing brings to your business. Litmus conducted a survey, according to which the average ROI is 38:1. Meaning that every dollar invested in email marketing will bring you $38. That outruns other digital channels by a mile.
Another reason why email marketing is important is that your email list is really yours.
In a time when you are under constant risk of your traffic sources running out, keep your client base is crucial.
Do you remember when Facebook changed its page policy a couple of years ago? They tweaked the algorithm to show more of your friends and family feed instead of pages. Suddenly, lots of websites lost a big chunk of their traffic overnight.
Google rolled out Panda update in 2011, Penguin update in 2012, Hummingbird update in 2013, Pigeon in 2014, and Mobilegeddon update in 2015. These had completely changed the landscape of SEO business and for many sites, it meant an end to their organic traffic.
Sure, there is always great opportunity in the change, but back to the point.
Email marketing is important because the email list you create is yours. No matter what happens to your paid advertisements or your organic traffic, you can still send an email to your subscribers.
How To Start With Email Marketing?
To start with email marketing you will need an email marketing platform. There is no point in reinventing the wheel and setting up your own email servers.
Starting with email marketing is now easier than ever, as the variety of email automation services that are out there to support your business is very wide.
Each of the email marketing platforms offers all the tools you will need to start gathering your email leads, sending out emails, and analyzing what worked and what did not.
In this huge variety, it might be difficult to choose. So you are kinda stuck in "analysis paralysis" not really moving anywhere, just looking at email marketing service comparisons.
Here is where I will try to help you. Below you will see a list of email marketing platforms that I used. I will be soon adding new ones, that will be more targeted towards a particular email marketing need.
This article has affiliate links in it. It means that if you decide to purchase a product or a service I will get a commission at no additional cost to you. 
How To Choose Best Email Marketing Software?
When you want to compare email marketing services, there are several things to consider.
Deliverability.
The most important aspect of email marketing service. All your emails will be delivered, but will they be delivered in the inbox or in spam? 
Ease of use. 
You want your email marketing platform to be straight to the point. Sure you need some options, but you do not want to drown in a variety of tools that are pointless. 
Price
When you are starting out all the prices of email marketing services seem similar. But what will happen when you have 1,000 or 10,000 or 100,000 subscribers?
Optin form design
If you want to convert visitors to subscribers on your list, your opt-in form must look the part. Most email marketing platforms allow you to choose and edit those forms. 
Email Marketing Templates
The same goes for emails themselves. I am a believer in simple text emails but maybe you have a reason to make some substantial graphic designs to the emails you send out. 
Support
it is inevitable. From time to time, you will get stuck. You will need help. Usually, the problems appear during the worst possible time. Fast support is critical at those moments. 
Email Marketing Services – Top Picks
1. AWeber (Best Email Marketing Service, $19 per month)
AWeber is one of the oldest email marketing platforms on the market. 
I used them for many years and even though now the competition in the email marketing tools is fierce, I consider AWeber one of the best choices. 
Fantastic deliverability in combination with ease of use and variety of templates created a great platform. 
Aweber editor is as simple as drag and dropping items into the design. it is very user friendly and no technical skills are required. 
In case you have others who you would like to join you on the platform, Aweber allows additional team members to be registred too. 
Price-wise the starting level is quite low at $19 a month per 500 subscribers.
What differentiates AWeber is the way it works with the list. It has a nice balance of automation while still having several lists. This is useful if you have different topics that you need to cover and need to have the subscribers separated. 
If you are looking for a free email marketing service, AWeber got you also covered. They have a great offer that will provide you an account with up to 500 free of charge! After that you can go with they PRO account which starts at $19.
Check out my in-depth comparison of AWeber Vs Getresponse here.
If you a re looking for a great starting option. Easy implementation, lots of templates and a good price – AWeber is the tool for you.
2. CONVERTKIT (Free account, Best Sales Funnel Personalization, $29 per month)
ConvertKit is another young email marketing service, founded in 2013. They are one of the best email marketing services for "creators" – the people who like to blog, vlog, write, type, and build content for others to use. 
ConvertKit offers "Email marketing software the way it should be." They are here to help you "make a living doing work you love" with their increased conversion rates and attractive forms. 
Their pricing is on the more expensive side compared to some of our other options, starting at $29 per month. There is a 14-day free trial if you're uncertain about the purchase. They also have a 30-day refund policy if you aren't satisfied with the service.
One of the best features you get with this email marketing software is the ease with which you can build email automation workflows. The visual builder plans out your sequences and funnels so you can preview your campaigns before sending them into action. 
Visually, ConvertKit's emails are designed to be modest and straightforward, based around plain-text and raw information. However, their email sequences are designed to be advanced and include triggers both on your website and within the emails themselves.  
This is ideal for people like bloggers and salespeople who don't want to concern themselves with heavy branding in their email automation. These emails are not built for flashy eye-candy appeal, but solid leads and conversion promise. 
They are also the best marketing service for those who don't have or want to build a website, as they require only a source of traffic to get started. Their built-in landing page editor allows you to take advantage of a customer base comprised of YouTube subscribers or social media followers.
With ConvertKit, you also have access to:
In-depth subscriber management tools
Enhanced email segmentation features
Multiple tagging options
Highly personalized email funnels
3. GETRESPONSE (Best Email Marketing Templates & Analytics, $15 per month) 
The power of GetReponse is in its email marketing tools. With this platform, you get email marketing templates, landing pages, and even webinar software. 
So if you are looking for one place to create a whole sales funnel starting from landing page to generate leads, then upsell them the webinar and then host the webinar on – GetReponse 
Another strong point for me where the analytics, the depth of the information that you can get from GetReponse analytics will provide you with a deeper insight into the workings of your list and your subscribers.
If you are looking for all in one tool for automatization fo your sales funnel GetReponse is for you.  
You can try GetReponse for free in a 30-day trial.
P.S.: If you are still on the fence on this check out my AWeber vs Getresponse comparison.
4. HubSpot (Email Marketing Platform Multitool, Robust CRM, $50 per month)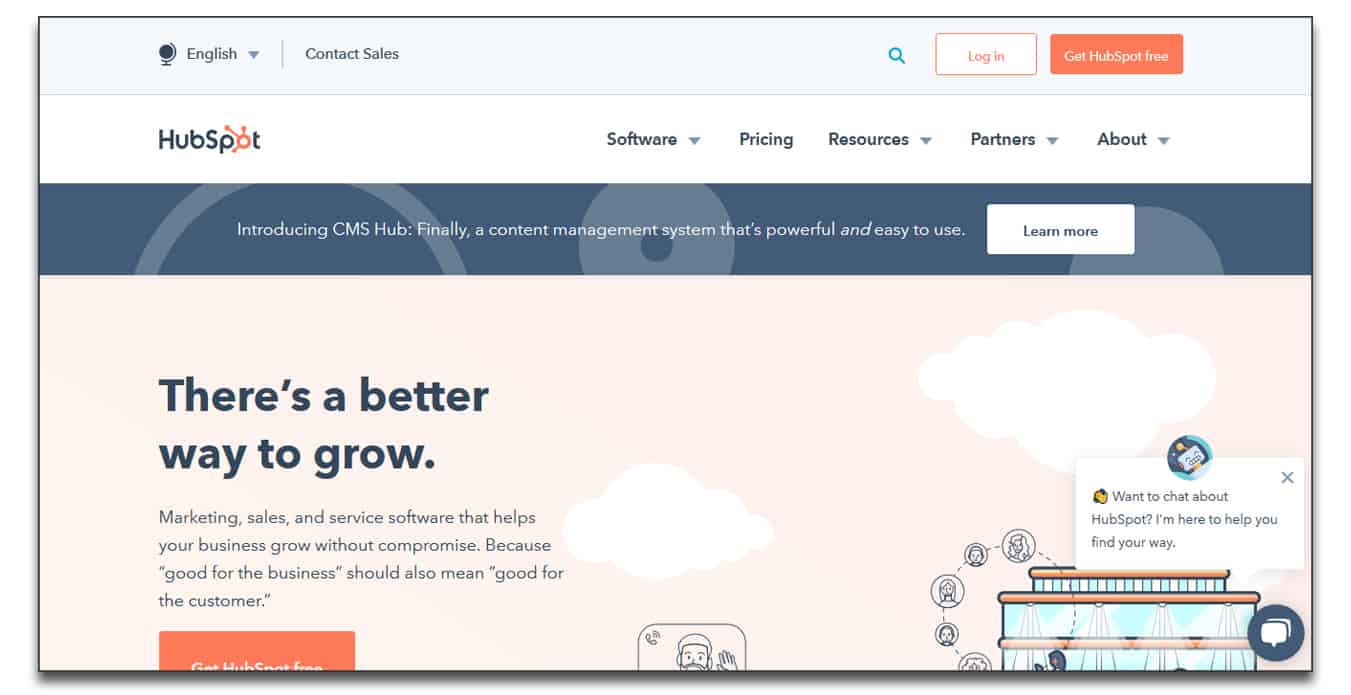 If you're looking for an autoresponder idealized for marketers, HubSpot is one of the best email marketing services out there. It is designed to easily create highly personalized emails and other marketing tools to advance your business. 
HubSpot allows you to create emails from a pre-designed template or scratch. There are dozens of layouts that are all optimized to add a dynamic interface for your clients and team members. Including dividers, buttons, and images in addition to text.
Your content can be personalized based on devices receiving, geotagging, and list segmentation in addition to the standard personalization tools. All drafts can be A/B tested on their subject line and content independently.
After your emails have been created, they provide an inbox checker to preview your emails in different programs ranging from Office 365 to Gmail. HubSpot offers a consistent 99% deliverability rate. 
The analytics dashboard is also incredibly in-depth, as you can view not only your open and clicks, but also metrics such as whether subscribers glanced at, skimmed over, or read your emails in depth. 
In addition to direct consumer marketing, HubSpot's email marketing software allows you to take control of your business with their Marketing Hub Started Package. This email automation software offers:
Mobile optimization
A highly functioning CRM
Automated sequences
A scheduling center
Lead, email, and ad analytics
All of these products are explained in detail in their online customer service section, where they offer a 24/7 telephone support, email contact, callback requests, and HubSpot forum and FAQ page. 
This is in addition to their HubSpot Academy, which is an online database of articles on dozens of different topics and concerns. 
HubSpot offers a highly variable pricing system to suit your needs. You select your contacts, the number of add-ons, and required services for a personalized quote. A Starter Plan with no frills starts at $50 per month.
You can also save 20% on your costs by billing annually. For startups, there is the potential to earn an astonishing 90% off your price at stair-step checkpoints based on incoming revenue. 
This discount ladders down after one year to 50% and 25% after two years – but after those two years, your pricing stays consistent at 25% off for qualifying businesses.
5. ActiveCampaign (Email Marketing Services for Small Business, $15 a month)
ActiveCampaign is one of the best targeted email marketing services if you're looking for true automation. This email marketing platform will provide you with the "email marketing, marketing automation, and CRM tools you need to create great customer experiences." 
ActiveCampaign efficiently functions as an all-in-one autoresponder and email marketing software. Though mastering so many tools can take some time, the marketing service is easy to use from end to end. 
To help you get started, they offer plenty of detailed guidelines on every step and product within the service. Their customer service helpline allows you to live chat or email a representative with any questions or concerns.
Pricing is also reasonable, with a basic plan starting at just $9 per month with discounts for paying annually. If you prefer to try before you buy, you can take advantage of a limited 14-day free trial. 
If you want more advanced tools, you're going to pay more. But the added features are worth it if you have an extensive subscriber list or complex needs. For instance, in their $49/month Plus Plan, they offer 20 different triggers for email automation alone. 
With ActiveCampaign, you can:
Automate your list segments
Send SMS messages
Move users based on sales follow-ups 
Build list triggers based on dynamic content
Manage email workflows
ActiveCampaign's templates are simple to use and customize, and the email campaigns are easy to organize and activate. There is even an option to construct a mobile-friendly signup form for your customers on the go. 
They also offer advanced lead scoring functionality, which is a way to award points to your subscribers based on predetermined triggers. Once these scores reach a target point, the automated system can trigger a new funnel or send their information to your sales team. 
ActiveCampaign's funnels are inherently logic-based to correlate directly to consumer behaviors. This makes it easy to streamline your marketing strategies while simultaneously automating most of the process. 
Their autoresponder's deliverability rates are also high and have some of the lowest percentages of spam marking from Outlook and Gmail inboxes.
6. Constant Contact (Simple and Easy Email Marketing Service, $20 per month)
Constant Contact is one of the best email marketing software if you're a small business looking to expand their subscriber list. Their autoresponder is highly customizable and is available to be integrated across several platforms. 
First-time users can take advantage of a 60-day free trial to take stock of the email marketing platform in action. If you're ready to bite, their basic plan pricing starts around $20/month, with discounts if you prepay or have nonprofit status. 
Additionally, if you're dissatisfied, they allow you a 100% refund for closing your account within the first 30 days. They also offer plans built specifically for associations and franchises with specialized tools. 
Constant Contact was founded as an email marketing service in 1995 and has grown with the times. There are written guides and self-service options to learn the tool on your own. You can also take full advantage of their range of customer support options. 
This marketing platform offers specialty tools in addition to their email marketing services, such as social media plugins, in-depth and easy-to-use event management tools. In addition, there are hundreds of websites and application integrations. 
There are over 100 mobile-optimized templates that are designed to aid you in your quest to engage your customers further. These templates can be organized easily into simple-sequence drip campaigns. 
The email marketing software also comes with real-time reporting and analysis to make it easy to check how you're doing anytime, anywhere. They offer an average at or above 90% email deliverability.
Constant Contact comes with a couple of drawbacks: there are very few automation tools, and you can't create complex sequences of drip campaigns, take advantage of advanced filtering, or combine conditions.
In 2015, Constant Contact became affiliated with the Endurance International Group, a conglomerate of some of the more prominent names in email marketing automation. The company's website states that it "fuels millions of small businesses worldwide" to make the most of their online presence. 
ActiveTrail
ActiveTrail is one of the best email marketing services for those who are looking for all-around features and value. This email automation service puts the "auto" in autoresponder with their emails, SMS messages, and even online surveys. 
Additionally, ActiveTrail has translated their software into 20 different languages, including Spanish, German, and French. If you are a multi-national company, this makes it easy to communicate amongst countries and cultures. 
Some of the options on offer from ActiveTrail include real-time analytics, a "Predictive Delivery" system to tailor email delivery to subscribers' lives, and A/B testing and optimization. 
Their "Contacts" section also functions similarly to a CRM system, which makes it easy to manage your contacts end to end. 
ActiveTrail's mobile app, available on both iOS and Android, allows you to check the status of various performance parameters such as:
Subscribe/unsubscribe rates
Sending errors
Open rates
Complaints
The email automation offered by ActiveTrail is also fairly extensive. For instance, you can set up automations that trigger on special dates, new groups, on-site actions taken, and unsubscribes.
If you're looking to set up your workflows, you can set trigger actions such as starting and ending a particular workflow, custom notifications, emails and SMS sent, and other conditions. The funnel building process can be completed quickly with the help of ActiveTrail's drag-and-drop editor. 
Perhaps one of the most significant selling points is the email marketing software's two APIs, which allow you to send and receive contact data between platforms such as Shopify and Salesforce. These can be triggered by selected presets, or you can even code the API to run custom automations.
This email marketing program is overall easy to use. If you have any questions, they offer 24/7 customer service and a fully stocked Learning Center. This section includes information on how to get the most out of your ActiveTrail experience in written guides and blog posts, videos, and FAQs.
When it comes to pricing, each plan tiered according to the number of emails you send per month rather than the number of subscribers or what features are offered, starting at $25 per month. There is even a free trial with all of the major features included.
Automizy
If you're looking for an autoresponder that can improve your open rates, Automizy may be the best email marketing service for you. They claim to increase your trudging open rates by a whopping 34% – and their tools certainly live up to the hype of this promise. 
Automizy provides an intuitive user experience to aid you in the basics of email automation. You can create and send your campaigns, build forms, automate your processes, and manage your contacts in the same software. 
Automizy lives up to their name: they are there to automate your email campaigns, easily. Automizy accounts give you access to email marketing best practices and the ability to manage multiple campaigns at a time.
Many of these functions are built directly into the email marketing platform when they're not included in handy guides. For instance, you can use their email workflow builder map to visualize the success of your email funnels during construction.
Automizy allows you to: 
Automatically resend campaigns 
Access automation blueprints
Take advantage of their preconstructed email templates
Utilize a "subject line tester" to score your emails before they're sent
AB test your automated emails
Automizy's pricing starts as low as $9 per month for all features and includes a 60-day moneyback guarantee if you are dissatisfied with your results. They include a 14-day free trial with no credit card needed for those who prefer to test the waters first. 
Additionally, this email marketing software adds a nice feature that most others don't: a free subject line tester and generator. This allows you to take advantage of their AI without first purchasing a subscription. 
If you find yourself with questions, there is an enormous FAQ and detailed guide section made up of written tutorials, webinars, and video guides. There is also a LiveChat system in place if you can't find the answers you seek. 
Benchmark Email
Benchmark is one of the best email marketing services to use if you're looking for easy drag-and-drop templates and an autoresponder that caters to massive subscription lists. It comes with additional easy-to-use tools, including:
Opt-in pop-ups
Surveys and polls
Over 300 SaaS platform integrations
A code editor for designing your emails
This user-friendly email marketing software features intuitive template customizers and advanced autoresponder campaigns. There are also easily-automated workflows activated by a list of specified triggers.
The drag-and-drop email creator includes 200 templates designed around specific industries and holidays. There is also an enormous image library with plenty of frequently used pictures (such as logos) at your fingertips. 
Other features offered include drag-and-drop email and newsletter designers, effective drip campaigns. It also features embeddable and popup email signups for all of your social media and websites, real-time analytics, and list segmentation tools. 
There are plenty of support options to aid your use of email marketing software. Including a blog and newsletter, a LiveChat function, and phone and email lines. Additionally, each tool walks you step-by-step the first time you use it, so you don't get lost playing in the features along the way. 
Benchmark's pricing plans follow both the number of subscribers you have as well as the number of features included. There is a free starter package in place of a free trial that consists of the basics such as drag-and-drop editors, drip campaigns, analytics, list and email automation, and multiple integrations.
Paid plans start at 600 subscribers and $13.99 per month and include every feature and unlimited email sends. They even have a plan for 7.14 million subscribers for a whopping $29,200 per month.
Benchmark is also unique in that it offers a selection of add-ons for every plan. These features range in cost based on the number of uses/subscribers, depending on the function. You can:
Include a list verification service
Upgrade to unlimited storage for image hosting
Add a dedicated IP to take control of your sending reputation and delivery
Check your email campaign on any browser with their inbox checker
Bronto
Bronto is one of the best email marketing services if you're looking for a cloud-based, commerce-focused autoresponder. This email marketing software integrates easily with the majority of e-commerce systems to localize information integration. 
It is important to mention that Bronto is more geared towards bigger, corporate customers. So if you are looking for a all-in-on solution that will start working today, check out other email marketing platforms in this post.
Due to this email marketing software running in the cloud, campaign implementation is often faster than alternative solutions. There are also 30-day accelerated implementation programs available based on client requirements. 
The drag-and-drop editors make for easy workflow customization, and marketers can tap their database of customer information to design highly personalized messages and campaigns. 
Bronto is capable of messaging through social media and SMS in addition to the usual email automation.
Bronto also includes a tool specifically to target customers who abandon their carts before checkout, called Cart Recovery. A drag-and-drop editor makes quick work of building targeting messaging campaigns for immediately after and several days after abandonment. 
Bronto gives users the ability to insert up-to-date data on product recommendations and customer demographics directly into their messages. This makes it easy to customize and target messages to more specific audiences. 
Their real-time reporting and analytics software includes data on list growth, contact performance, and list growth on customizable dashboards. Metrics tracked encompass everything from revenue to deliverability to engagement, while A/B testing provides additional performance metrics. 
Some additional features of Bronto's email marketing software include:
Browse Recovery to target customers who frequent a particular product or page
Adding recommendations to suggest similar products
Easy-use, mobile-friendly pop-ups
In terms of resources, Bronto's email marketing service comes with written guides, webinars, a blog, and even a podcast. These are all designed to help you navigate their platform with ease while maximizing revenue and customer engagement. 
As far as pricing is concerned, every customer has to contact Bronto's sales department for a personalized quote. There is no free demo and no refund policy available at this time. 
Campaigner
Campaigner is one of the best email marketing services if you're looking for all-around value at competitive prices. Their pricing points start at $29.95 per month for 1000 contacts with all features included. 
Campaigner offers a free demo to try their basic features. Although there are no discounted plans, there is no contract, so service can be canceled anytime. 
This email marketing software includes a drag-and-drop editor for your autoresponder system, which can trigger on profile change, form submission, and newsletter signups. Advanced targeting features range from engagement metrics to purchase behavior to email segmentation. 
There is also a geolocation tracker, the ability to target subscribers according to your geolocation collection, and real-time display ads available to be embedded in various resources. 
Other tools available in this email marketing service include:
Split A/B testing
Suppression lists
Workflow automation
Responsive design templates
Social sharing
The Reports tab of Campaigner's email marketing platform allows you to view the data for each campaign, with an option to integrate GA into Campaigner to enhance your tracker. Available information includes devices used to display your messages, open and click rates, unsubscribes, and replies.
When it comes to building a campaign, doing so with Campaigner is easy with their two options: Smart Email Builder, which provides templates, and Full Email Editor, into which you can code your own layouts. If you prefer simple, concise campaigns, there is also a Plain Text Email editor. 
The marketing automation is excellent if you're in the market for basic, easy-to-use workflow and trigger. This is not an ideal option if you're looking for any organic CRM tools, social media automation, or search marketing capabilities. 
Campaigner offers 24/7 email and phone support with their service. There are also nearly 30 webinars available to walk you through the site in addition to the dozens of step-by-step guides to optimize your campaigns. 
Elastic Email
Elastic Email is a modern email marketing option for experienced professionals. This platform offers a clean UI and robust features. However, it does come with a steep learning curve. 
In this Elastic Email review, we're going to touch on their main features and pricing plans. 
Elastic Email is a platform known for putting out frequent updates to stay modern. They offer a robust platform with plenty of email marketing tools, such as:
Clean campaign creation
Segmenting abilities
Autoresponders
A customer service widget built into your UI
You can also use their full-bodied landing page builder to create beautiful, customized forms. 
Elastic Email also excels with their send options, which allow you to tailor campaigns to your readers. Plus, their contact management tools are top-notch. 
Furthermore, their analytics dashboard provides a comprehensive look at your performance. 
Elastic Email's main downside is that they skimp on some of the features to make and send your emails. While their interface is beautiful, their drag-and-drop editor is basic. Not to mention, if you want full customization abilities, you need to know HTML. 
Lastly, let's review Elastic Email's pricing. 
Their paid pricing plans start at $10 per month for 2,500 contacts. Unlimited Pro, their top-tier plan, runs $30 per month for up to 10,000 contacts and full features.
Gist
Gist is one of the best email marketing services if you're looking for multi-language, 360-degree access to an all-around intuitive software. They are built primarily for cooperative sales teams and even offer a 24/7 chatbot to pre-qualify your leads and book your meetings. 
Additionally, you can send private messages, organization conversations, and assign conversations to your teams quickly and easily. This makes Gist perfect for SaaS companies, online and e-commerce businesses, and creative industries such as blogging and online development.  
Other advanced tools available range from LiveChat tools, scheduling and helpdesk service, marketing services, and opt-in box tools, to name a few. Some other main selling points of Gist's email marketing platform include:
99.99% uptime
GDPR compliance
30 apps and integrations
Geotracking
Anonymous and repeat visitor tracking
SSL and TLS encryption
Gist offers all of its services across 44 languages. Their platform is designed to generate, nurture, and follow up on sales leads any time of day or night across multiple users. 
As a bot-based email automation service, Gist offers capabilities ranging from collision detection, lead qualification bots, smart suggestions, customizer bots, and many more. This allows individuals and teams to get their work completed quickly and efficiently. 
If you need help navigating the platform, Gist offers a substantial public help center as well as help desk integration directly into your services. They offer LiveChat services and a thorough blog base to cover all topics with which users may experience issues. 
Their forms are all easy to use, however, and require no experience in coding or website design. Additionally, a CRM feature is coming soon to the platform to make managing contacts that much easier. 
For all of these features, there are a total of three pricing points – including a free (albeit limited) service for up to 1 team member and 1000 contacts. Their Professional Plan alone starts at $9 per month and ranges to $40 per month. 
iContact
If you're looking for one of the best email marketing services for small businesses focused on internet marketing, look no further than iContact. Founded in 2003, iContact had the vision to "build a great global company….for customers, employees, and communities."
If you're a nonprofit corporation based in North Carolina, iContact is tailored specifically for you. Qualifying 501(c)(3) corporations are entitled to free email marketing services through iContact. 
For those who don't qualify for their free service, iContact offers three plans. Basic, starting at $14 per month, Pro, and Premier, with a 15% discount for annual payments and 20% off for non-North Carolina nonprofits. 
There is also a 30-day free trial of the Basic email marketing platform that allows 100 contacts and 400 messages in total. 
If you need a high-volume plan, you can contact iContact directly for a quote. High-volume plans are entitled to additional features. For example, a dedicated advisor, custom-made templates, and all features unlocked for all sales team users. 
However, iContact does come with a catch: many of their services are included as add-ons for an additional price to offset the comparatively cheap cost of their plans. For instance, a Salesforce integration will cost you $99 monthly, while "marketing services" are available for an unnamed fee. 
iContact offers full web and mobile access on both iPhone and Android. Their dashboards are simple and provide a quick analysis of your email marketing service's performance as well as integrated social media and contact lists. 
Campaign creation is straightforward with their template-based MessageBuilder and optional MessageCoder. There are 700 preset templates, but a limited number of options for copying page elements or creating additional features such as buttons or wrapping text. 
All of your campaigns can be previewed for mobile phone, desktop, and tablet email inboxes. Additionally, all of your social media services can be directly linked to your dashboard.
There are two statistics sets to keep track of your business: "Account Health" and "List Health." These allow you to view metrics such as the number of messages sent, subscriber count, email unsubscribes and bounces, and growth in terms of particular lists.
Many of these metrics are available to be viewed as both numerical lists and pie charts. You can also check which specific email addresses are opening versus clicking.
iContact's email marketing service offers Live Support through phone, email, and chat, an online, interactive guide that covers the basics, a blog, 27 video tutorials, and both live and recorded webinars. You can also hire a marketing advisor by contacting iContact directly. 
Mailerlite
Mailerlite, as the name suggests, is email automation, the lite way. By offering only the basics – albeit very robustly – they can keep service swift and prices low.
For this reason, Mailerlite is one of the best email marketing services if you're a small business on a budget. They also work well for those who just need a quick and easy email automation tool for basic needs. 
Another young email marketing service, Mailerlite, focuses on keeping your tasks simple and intuitive. Creating new email campaigns quickly and efficiently is not a problem, as they offer both flexible and drag-and-drop templates with minimalist designs.
One thing to be aware of is how Mailerlite sorts their categorizing tools – instead of "tags," Mailerlite uses "segments" and "groups." Essentially, segments are the subscriber sorting rules, while groups are the "tags."
Customer service is also a selling point with Mailerlite, as they have a small team of dedicated agents – who speak 12 languages – to address your concerns. The service also includes an extensive database of written online resources and video tutorials to get you started. 
However, for those who need their analytics and other real-time data, this is an autoresponder to beware of, as there are no advanced features. If you're just starting or have the confidence your readers are engaged, this may be the best email marketing service for you.
Pricing-wise, this autoresponder is built to target small businesses, self-employers, and freelancers, as well as individuals such as website owners and dropshippers. There is a free service that allows up to 1,000 subscribers/12,000 emails per month. 
A basic plan for 1,000 subscribers and unlimited emails is just $10 per month. Their largest plan allows 10,000 subscribers for a mere $50 per month. An annual plan will save you an additional 30%. 
Mailigen
Mailigen is one of the best email marketing services if you're after email automation designed for small-to-midsize businesses across a variety of industries. 
Some key features of this autoresponder include easy automation and list segmentation, campaign analytics, and pre-made templates and form builders.  
Starting your campaign is simple and easy. You design your templates based on nine different "content blocks" that allow you to quickly and easily insert your desired media into your emails and newsletters.
This drag-and-drop editor is incredibly easy to use for those who are new to the email marketing game. It even lets you add dynamic content such as "if/then" statements or other features to personalize your emails to your subscribers. 
Additionally, you have the ability to integrate surveys and SMS capabilities into your platform. An open API offers the ability to integrate through plugins designed for WordPress, BigCommerce, Zapier, and more. 
If you have a lot of social media marketing in your company, Mailigen's email marketing software can serve you well. Integrations are available across several social media platforms such as Twitter, Facebook, and others. 
Mailigen's email marketing platform offers tiered pricing based on the number of email subscribers on your list. A basic plan for 500 subscribers starts at $10 per month.  
If you need high-volume email automation, Mailigen also offers customized pricing for lists of over 150,000 subscribers. If you're not sure whether they're suitable for your needs, there is a 30-day limited-feature free trial to utilize their basic services.  
For those who need a quick tutorial before they use their new services, there are over a hundred online articles to walk you through the essentials and complexities of Mailigen's email marketing platform. 
There are also easy-to-follow how-to guides and blueprints, an email and contact form service, and phone support for those who prefer to connect the old-fashioned way. 
Mailjet
Mailjet is one of the best email marketing services if you have large lists with relatively few emails sent per subscriber or are on a shoestring budget. This Paris-based company maintains a focus on quick and easy email automation for large subscriber bases.
While Mailjet offers solid value in its uniquely designed collaborative email editor and transactional email functionality, it falls flat on more advanced tools. Mailerjet is not ideal if you're looking to create segmented and targeted direct marketing campaigns. 
Mailjet's email marketing software takes you step-by-step through the email creation and email automation processes. However, they have a much more limited range of newsletter templates, and most of their designs are quite basic. 
For those who prefer to personalize their emails, they have a top-notch drag-and-drop editor with a full range of tools. Included are the abilities to:
Add content such as buttons, videos, and images in addition to text
Customize content blacks by color and text style
Layout editing
Change the language of the text in your email
Display specific content blocks to specific lists or segments
The send options for Mailjet are also limited, as there is no inbox checker, no time zone distinctions, and no optimal send time features. 
You also can't create complex email automation sequences – just bare-bones template sequences for actions such as welcome emails, date-based sends, and updates.
One place Mailjet does excel is in their transactional emails. While it does require a little bit of coding knowledge, Mailjet's email marketing platform offers templates specifically designed for various transactions, including accepted and declined payments.
When it comes to support, Mailjet is again limited in options. Though there are step-by-step guides and plenty of documentation, there is no phone or live chat support. A "Contact Us" option allows you to submit a ticket at any time, however.
As far as pricing is concerned, Mailjet's free plan allows you 6,000 email sends per month – at a maximum of 200 email addresses per day – for unlimited contacts. A basic plan costs just $9.65 per month and offers 24/7 support, up to 30,000 email sends monthly, and no daily send limits. 
This is excellent for those who just need to send out basic, regular emails to a known subscriber list. However, if you want access to premium features, you'll pay $15.50 per month to add on marketing software and tools like basic A/B testing. 
MoonMail
If you're looking for reliable, tech- and cloud-based email marketing automation, MoonMail is one of the best email marketing services for you. This, however, is also a service better geared toward the tech-savvy email marketers out there, so beginners take caution. 
MoonMail operates with Amazon Web Services as an excellent all-in-one for messing via SMS, Voice, social media, and chatbots in addition to email. It's important to note that you can't sign up for MoonMail if you don't have your own domain. 
MailMoon doesn't offer email templates, only a markdown cheat sheet, so you have to build your emails from scratch using their HTML builder. This makes MoonMail less than ideal if you have no experience in coding or running an email marketing campaign.
One very positive point about MoonMail is that each step of the campaign-building process comes with a checklist to mark your progress and handy pop-ups with helpful tips. There is also a searchable help center chock full of walkthroughs, videos, and screenshots. 
However, this makes MoonMail great for those who know what they want and how to code it from the start. 
Moonmail has a solid foundation of analytical metrics, with a dashboard that shows you all of your campaign performance data on one page. Information includes:
Emails sent and delivered
Opens and clicks
Bounces
Spam complaints
As far as pricing goes, there is a demo account (not a free plan) and a 14-day free trial to test out MoonMail's email marketing services. It should be noted that your credit card information is required upfront. 
Their Lite plan starts at $23.99 per month and comes without an autoresponder option, so if you're looking for email automation, you'll have to jump up to Starter or Professional. 
Another thing to point out about MoonMail is that their signup process involves you entering your credit card information from the get-go – and then they charge you a $1 payment validation fee, with no chance to opt-out. While the charge is refunded, this process can take up to ten days. 
Moosend
Moosend was founded in 2011 to be one of the best email marketing services that is both affordable and intuitive. They provide a robust toolkit for email marketers working in businesses of all sizes, from startups to global behemoths. 
Moosend is geared toward those with an intense focus on email marketing. As items such as integrations and sign-up forms are basic and limited. There are also no landing page options, which means online businesses will need multiple platforms. 
Campaigns are quick to build with the drag-and-drop editor and a library of 40 templates. It's designed to be easy to learn for beginners in the email marketing game.
Every step of Moosend's "Campaign Creation Wizard" is laid out in a simplified format. Split A/B testing is built directly into the campaign creation process to quickly check the effectiveness of your emails. 
When it comes to the autoresponder software itself, Moosend's email automation is exceptionally advanced and user-friendly. Workflows are laid out visually with options such as lead scoring, subscriber welcome, and cart abandonment reminders. 
If you're short on time or new to marketing, there is even a "recipe" library full of pre-defined automations to from which to select. All automations are included in all plans – even the free option.
List management is also incredibly easy to follow, as there are multiple upload and import options. Additionally, the segmentation opportunities are vast and include applications and devices viewed, user actions, and custom fields.
It's worth mentioning that subscribers count once toward your list limit regardless of how many lists they're segmented into. This is a fresh alternative to the vast majority of programs that count subscribers per list instead of per address.
Moosend's pricing scheme is easy to follow as the tiers are based solely on the number of subscribers:
Free – up to 1,000 subscribers
Paid plans start at $10/month for 5,000 subscribers
Discounts apply at six months (15%) and one year (20%)
Omnisend
Omnisend is one of the best email marketing services if you're looking for an omnichannel strategy for your business. This email marketing software combines applications, including email and SMS, social media, and e-commerce/business platform integrations.  
One of the factors that makes Omnisend so powerful is its built-in Smart Send Solution. This software is responsible for sorting your outgoing emails to avoid your customers receiving irrelevant messages. 
This is made possible partially through Omnisend's smart segmentation capabilities. Potential of the smart segmentation software include: 
Auto-renewing segments to categorize customers by campaign activity, channels, and consumer behaviors
Designing specially tailored promotions and messages
Build lists based on where customers subscribe from
Targeting campaigns toward products, discounts, or total order value
When it comes to creating the content itself, Omnisend's email marketing platform features a drag-and-drop editor alongside other features such as a Product Picker, coupon or discount code insertion, and even extras like scratch cards and gift boxes. 
Additionally, Omnisend offers multiple lead-building avenues. You can opt for signup boxes, pop-up widgets, and even a "Wheel of Fortune" style signup form. 
All of this functions to make it easy and fun to add subscribers and collect valuable information like names, locations, and birthdays for special coupons and offers.
Analysis of your campaigns is made easy with Omnisend's customizable reporting tools and metrics. These in-depth reports give you a breakdown of information such as:
Subscriber country of origin, language, and device
Where in a specific newsletter receives the most clicks
Which sign-up forms perform the best
As far as pricing is concerned, Omnisend structures their plans according to features included. They offer a free plan that allows up to 2000 emails per day (up to 15000) per month and all of the basics to get started. 
Their standard plan starts at $16 per month with a discount if you purchase annually. For custom pricing plans for unlimited emails and free SMS credits, you'll have to contact Omnisend directly.
Ontraport
If you're looking for a high-end, full-featured email automation solution, Ontraport is one of the best email marketing services available. Ontraport offers their product in 63 countries worldwide and delivers intuitive automation across a variety of industries.
This email marketing software is optimized for the CRM and lead capture needs of an email marketing campaign. They make it possible to locate, nurture, and maintain more robust client and subscriber relationships.
Some of the most impressive features Ontraport boasts include a fully customizable CRM, affiliate and partner platforms built-in, and e-commerce/payment processing capabilities.  
Additionally, Ontraport has built-in membership capabilities that work with WordPress and PilotPress plugins. This works to safeguard and restrict access to your membership/subscriber-only pages. 
They have an enormous template library with the option to code your own designs with their HMTL builder. All templates in the system – and any that you build – are created to be fully responsive and customizable.
Ontraport's visual campaign builder is one of the cleanest and most intuitive in the email marketing software game. It includes a performance mode to view and easily track your marketing potential. 
There are several aspects of campaign building that can be fully automated, including (but not limited to):
Email sends
Tagging
Record updates
Task creation
SMS and postcard sending
Membership site access
Ontraport's pricing tiers range from a basic $79/month service to a premium $497/month enterprise service. They do offer a 14-day free trial on all of their product plans for those who like to try before they buy.
Each plan includes a 90-day moneyback guarantee if you are dissatisfied with your service. 
Every plan includes a 1-on-1 onboarding process to walk you through the site and any subsequent questions. Higher-tiered plans include account setup and email consultation, and the enterprise service even offers a personal account rep to tailor your new toolkit to your needs. 
Pabbly Email Marketing
Pabbly is one of the best email marketing services for reliable inbox delivery and SMTP service. They are all-around an excellent tool at any cost – whether the plan is free or paid, all of the critical features will be included.  
Pabbly is a full-service email marketing software for email automation, form building, subscription billing, and list cleaning. Some key features of this software include:
Unlimited products, plans, revenue, and customers
Supports 23 currencies and payment softwares such as PayPal and Stripe
Recurring and one-time subscription billing software
Their services allow you to integrate external or built-in SMTPs and send bulk emails with a click. Emails can be sent via their built-in delivery engine or SendGrid with a 99% delivery rate. 
Each email can be routed through multiple SMTPs to maximize your reach through numerous vendors. Additionally, Pabbly will handle your bounce and spam complaints from all major SMTP services, include SendGrid, Amazon SES, Mandrill, and more.
Building your campaigns is easy with the drag-and-drop editor. This can be used with any of their 500+ templates, and all templates allow dozens of customizations to tailor your campaigns to your subscribers.
Pabbly's email automation allows you to interact with your subscribers without undue effort beyond the initial email creation. Trigger factors for your auto-response system include factors such as following up on non-opens and pre-setting your schedules to make your life that much easier. 
Pricing starts at 2,500 subscribers for $29 per month and ranges up to 2.5 million subscribers at $3,000 per month. This makes them one of the more affordable, all-inclusive email marketing services for large campaigns. 
A total of 17 tier plans means that there is a sizable option for any business, from startup to Fortune 500. Additionally, you can bundle your payments in terms of one year for 30% off, two years for 40% off, or even three years for a whopping 50% off.
All of these plans come with increasing numbers of:
Subscription billing (50-50,000 customers)
Form builders (2-1,000 forms)
Email verification (6,500-10 million credits)
Workflows (3-400 workflows)
Redcappi
If you're looking for a budget-friendly beginner's email automation service, then Redcappi is one of the best email marketing services on the market. 
Basic plans start at just $10 per month or $90 per year with the annual discount. A free plan is available for those who have 100 subscribers or less. There is also a free trial on every plan that requires no credit card to sign up. 
Plans run up to half a million subscribers to accommodate businesses of all sizes and marketing needs. Nonprofits get special discounts if they contact Redcappi directly, as can businesses who have lists large than 500,000. 
When it comes to designing the emails for your campaign, you have access to a drag-and-drop editor and the ability to create all of your templates from scratch. 
There are no preset templates available, although Redcappi has marketers for hire who can design custom logos and banners for your business. 
Your campaigns can be previewed for desktop applications and inboxes when you're ready. All of your emails can be A/B tested, scheduled according to time zone, and previewed one last time upon hitting "Send". This way you may be sure that your email campaign is triple-checked the for quality.
Your campaigns can also be automated with essential criteria such as new subscribers, cart abandonment and purchase reminders, and tutorials. Options that are not included are inactive users or special events for your subscribers.
One of the nice features Redcappi offers is the ability to import your contact in the background of your other tasks. This is especially beneficial for businesses with large contact lists that take considerably more time to upload. 
There are a variety of sign-up forms and form functions available with this email marketing program. However, subscribers can't segment their contacts into lists – you have to contact Support to do it for you. 
Another handy tool this email marketing software offers is integration with Google Analytics, which allows you to harness the incredible power of Google to quickly break down your data metrics. Data displayed includes:
Clicks and opens
Unsubscribes 
Bounces
Forwards 
If you run into problems with setting up your account or building your campaign, Redcappi offers business hour phone support and 24/7 email support. Their website also features searchable how-to guides and thorough descriptions. 
SendBlaster
If you're looking for massive bulk email potential, then SendBlaster is one of the best bulk email marketing services for you. SendBlaster is also unique on this list in that it is a one-off lifetime license software rather than a subscription service. 
There is a free version that allows up to 100 emails per day, with all of the other features included.
As far as pricing is concerned, a SendBlaster 4 Pro license costs $129, with discounts for every license purchased. There are discounts for bulk license purchases, starting at two licenses for 20% off up to 50 licenses at 50% off.  
Paid licenses include a full year of in-depth customer support. 
All of your contacts can be easily imported through various document files. SendBlaster makes quick work of categorizing your subscribers according to established filters with their advanced data filter system.
SendBlaster offers over 100 highly customizable templates that are easy to use in addition to their HTML coding software. They also don't force footers with mentions of their services or standardized "unsubscribe" options.
Not forcing the unsubscribe button means that SendBlaster is an excellent choice for employee-received email campaigns or educational services. However, unsubscribe options can still be offered within subsets or alternative campaigns where appropriate. 
With SendBlaster's email marketing software, it's possible to use your own SMTP servers or opt for a third-party plugin to expand the reach of your campaign. 
This email marketing program also seamlessly integrates with Google Analytics and TrackReports to offer the most thorough analysis of your raw data. Among others, analyzed metrics include:
Open and click-through rates
Subscribes and unsubscribes
Product purchasing
Bounces and spam complaints
Additionally, SendBlaster 4, the newest release, integrates with MailStyler (which can be purchased through the SendBlaster product store). This newsletter designer makes it easy to cross-client your emails with your newsletters to design the most impactful campaign possible. 
To get a handle on all of these tools, you have access to dozens of articles and tutorials on all aspects of using the site, from how to get started to a detailed list of your sending options. Also available are:
How-to guides and videos
LiveChat
Phone support
A Trouble Ticket System
Skype support
SendinBlue
SendinBlue is the best email marketing service for those who need to take advantage of a free program while they get their feet off the ground. Although their free plan has plenty of limitations, their Lite option starts at just $20 per month with discounts on annual plans.
SendinBlue is unusual as an email marketing platform in that their pricing structure is based entirely on the number of emails sent, so if you are looking for cheap email marketing, this might be a good starting point.  
For instance, their free plan allows up to 300 sends per day, while the Lite plan allows 40,000 sends per month – with no daily limit.  
At the beginning of SendinBlue their original business plan was geared toward transaction-based emails. As markets have grown, they've combined their expertise with SMS campaigns into a single service.
As a result, their email marketing software offers expertly automated SMS campaigns, email campaigns, and newsletter services. 
All of their products are built to be easy and intuitive to use. While some of the frills may be clipped for the cheaper plans, you still have access to clean-cut templates, website opt-in forms, and a comprehensive automation system.
There are also dozens of third-party integrations to make email automation easier than ever. Additionally, even the free plan comes with a CRM to automate one workflow of up to 2,000 contacts. 
Their email automation workflows are easy to customize and allow you to set up your desired triggers to funnel your subscribers appropriately. The actions taken from these triggers can include:
Segmenting your contacts
Updating contact information
Sending emails
Sending SMS messages
SendinBlue's email marketing service comes with AI and machine learning to optimize email timing, so your emails are sent when people are most likely to engage. You can view your campaigns' performance in real-time with built-in reports on metrics such as click-through and open rates, heat maps, and deliverability.  
Sendpulse
SendPulse email marketing platform is a popular all-in-one solution platform that helps you connect with your subscribers. With SendPulse, you can use such outreach methods as:
Email marketing 
SMS 
Web push notifications
Chatbots
In this SendPulse review, we're going to briefly cover their main features, as well as their pricing plans. 
SendPulse is an SMTP, or simple mail transfer protocol. This bulk email marketing tool includes a full range of features, such as:
A free SMTP server (for 12,000 messages a month!)
Dedicated IP addresses
Top-notch encryption
Comprehensive autoresponse programs
Plenty of campaign analytics
When it comes to your campaigns, you can use their drag-and-drop editor to personalize your content. Plus, you can A/B test your campaigns before you send them out!  
If you want to integrate SendPulse with other sites, they allow that, too. They're compatible with services such as CRM software, communication apps, and automation platforms. 
SendPulse does have a couple of cons to review, however. The first is that their user interface (UI) is somewhat challenging for new users. Plus, before you send out your campaigns, SendPulse has to review your content to weed out spam marketing. 
This platform offers several tiers for each service. Many, such as email marketing and chatbots, include a limited free option. 
Their paid packages, on the other hand, range from $6 to $220 per month, depending on your needs. 
Vertical Response
If you're a freelancer, small business, or nonprofit looking to pay for the basics and nothing more, Vertical Response is one of the best email marketing services for you. This system is simple and straightforward, and also works well for first-time marketers to start their first campaigns.
Some of the standard options included with Vertical Response are:
Fully edit customizable in-house templates
Basic segmentation abilities
Basic contact management capabilities
Email preview options
A/B testing
Vertical Response offers a simple workflow that is easy to follow for newcomers and time-crunchers. Through these workflows, you can create basic email automation campaigns. 
This email marketing software gives you easily accessible and actionable insight into fundamental analytical metrics. You can quickly check your performance based on devices, email client, and geographical location.
Vertical Response also offers "heat map" capabilities to show you where customers are – and aren't – browsing in your campaigns. This allows you to more effectively tailor your marketing strategies and click with your customers and subscribers. 
If you have difficulty in any part of the process, Vertical Response offers excellent online customer service. There are video tutorials for every tab, an "Editor Tour" in each email template to explain the basics of the drag-and-drop editor, and an always-visible help button. 
Phone and live support are available during business hours for paid plans. The free plan allows access to the support team through email if you have further questions.
This email marketing platform offers pricing tiers according to the number of contacts. There is a free plan that offers limited features for up to 300 contacts. If you prefer to try before you buy, you can use Vertical Response for free to up to 60 days or even purchase "credits" to unlock features for periodic emails. 
A basic plan starts at $11 per month with 10% and 15% discounts for semi- and annual subscriptions, as well as a surprisingly beneficial nonprofit package. 
Email Services Pricing
Free Email Marketing Services
If you are looking for a starter free online marketing software you should definitely consider Convertkit. They will provide you a completely free account limited only by the number of subscribers that is very high for a beginner.
Best Practices of Email Marketing 
1. Do not SPAM your subscribers
It is very easy to get your domain blacklisted. Never spam your users. It is better to send one good email than two bad ones. 
The frequency of the emails depends on your subscribers' base. But I would suggest 1 email every two days as a maximum. 
When you are sending out a several days course, sure, email the list every day. But be aware that when you starting losing the interest of your subscribers they will unsubscriber or in most cases mark your email as spam. That will decrease the deliverability fo your domain.
2. Write catchy subject lines.
Open rates matter. For people to open your email the Subject of the email has to be on point but also catchy. Stay away from clickbait titles that do not really deliver. This is how you will get marked as spam.
As much as possible try to send valuable information and deliver on the promise that you made while getting the visitor email.
3. Personalize your emails.
Make sure that you are doing your best to talk to each subscriber in a personal manner. Use the first name in the greeting and possibly through text. 
Having a personal touch si much better looking than just putting the same anonymous template for everyone.
4. Do not purchase email lists.
Several reasons not to do so. In most countries with GDPM and SPAM Act you could get fined for that. You should have proof that all the users on your list registered themselves on some of your webpages. Email marketing platforms take care of that. 
Purchased subscribers do not know you, the spam and bounce rates will be through the roof lowering the quality of your domain. 
5. Send a welcome email or a welcome email series. 
After a new subscriber had joined your list, make sure the communication is established. That can be done by sending a welcome email. Confirming that his/her email is now in the list and setting the opening tone for future communication.
Also, as Gmail tends to throw many emails in spam – make sure that the subscriber will actually find your email and make sure to move it to inbox.
6. Keep the design simple. 
I am a big believer I minimalistic design. Particularly in email. You don't want to send a message that has 6 colors and  5 pictures. Most of the email accounts will block the pictures and it is just too messy. 
Keeping the message clear, simple and to the point. That is what is valuable. 
How Do Email Marketing Platforms Work? 
Email marketing companies provide the client with email marketing services. Sounds obvious… 🙂 
What they do is they rent servers and they set up email marketing software on those servers. While it may seem quite easy, setting up email automation is no simple task. I did it for myself on a much smaller scale and trust me, it is a world of pain…  So what do email marketing platforms give you? 
Let's assume you have a list of 100 email addresses. 
1. Automation. 
Sending 100 emails at once may not be a problem. But doing it at the same time, from your own email, suddenly… that could cause a quick blacklist entrance. 
Email marketing services will spread emails throughout the day. This way you will decrease the risk of being flagged for spam. 
2. Analytics
Who opened? Who clicked? What % is the conversion to sale from your email campaign? Impossible to track on your own even with 100 emails. 
Email marketing companies provide you with a set of tools to analyze and research how your campaigns did. This is of critical importance when creating any kind of email marketing strategy.
3. Testing
Nearly all of the email marketing platforms allow you to do A/B testing. This way you can test multiple subject lines and texts of the email. You can reach bigger conversions only through rigorous testing. 
4. Email marketing templates
They will provide you with a variety of templates to use for your emails, landing pages, and email optins. 
5. Subscribers list segmentation and tagging
Email marketing services will allow you to separate your subscribers into various lists. Depending on their interest, the website where they registered and so on. 
Some platforms also offer can tag your subscribers based on their open rates, clicks rates etc.
You might also want to check out my extensive guide on webinar services, an in-depth guide on web hosting, or a review of landing page builder tools!
Email Marketing FAQ
What is Email Marketing?
Email marketing is a channel through which you communicate to your subscribers, or rather their emails. First, you gather their emails through a so-called opt-in form, and then you can email them with news or offers.
What are the best email marketing services?
I hope you will find them on this page, I consider Aweber and GetReponse to be among the best on the market.
How to do email marketing?
You start with one of the email marketing services. After that, you create an opt-in form, drive traffic to it and gain subscribers. Than you send them marketing emails.
How can I email marketing for free?
Aweber Offers a free email marketing account for up to 500 subscribers!
What are the types of email marketing?
There are three types.
1. Email newsletter. One of the most popular forms. Usually, a one-off communication that can send important updates, product promotion and other content of one-off nature.
2. Behavioral Emails. These are sent depending on the subscribers' actions. Welcome emails, confirmations, reactions to the click on the previous email, etc.
3. Transactional Emails. Receipt, invoice, billings.
How to write a marketing email?
It depends on the goal. The usual structure would be a greeting. That would be followed by the main information and the goodbyes. You might want to check Email Marketing Best Practices above.
Why email marketing?
It is one of most profitable, stable and secure sales channels.
What is a hard bounce in email marketing?
When the email address you trying to reach does not exist. In the eyes of the email websites that may mean that you have a bought, outdated or scrapped email list. You bounce should be as low as possible so you do not damage your domain reputation.
How to get email lists for marketing?
Create landing pages with an optin. Offer a freebie for email registration. Drive traffic to that page. Do not purchase lists or use any other shady strategies. You will just hurt yourself in the long run.
How to charge for email marketing?
Depends on the type of service you will be providing. If just sending out emails – you might charge a $ per email sent. Possibly a share on the profits from the sold product. Alternatively a $ per each subscriber added on the list. There are many options.
What is a good open rate for email marketing?
The average email open rate maybe around 20%, the average click-through rate between 2-3%.
How to make money with email marketing?
Gather a big subscribers list and start sending ads to your own products or affiliate marketing links to your audience.
How does email marketing work?
You register with email marketing service like Aweber or GetReponse. Drive traffic to your landing page and get subscribers.
What is Opt In meaning?
When a subscriber enters his/hers information in the "opt in form" and clicks submit – it it means he/she "opt in" to your list.
What is Double opt in meaning?
After the subscriber had enter his / hers email and opted in, they maybe receive a confirmation email that they have to click to be finally registered into the list – that is called double optin.